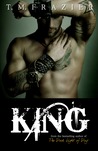 King
by
T.M. Frazier
Book 2?? Where is book 2?? Oh my Jesus.... I thought this was a standalone.. evidently there was a change in plan....
Holy hell this was so good... I started and didn't want to put it down.... once I wrap my head around what I'm thinking and feeling I will get a full review done..
King just landed on my fav book boyfriends list... And the book is now added as one of my top favorites. Warning - there is a cliffhanger.... I'm not sure I'm going to survive the wait time for Tyrant...
View all my reviews